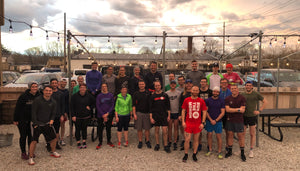 2021 State of the Club
Hi there. My name is Garrett, and I'm the founder of the Monon Track Club. I generally prefer to keep the club faceless, but thought it might be a good time to pull back the figurative curtain a bit for what I think will be an annual post. And with that, welcome to the first ever State of the Monon. A look back at where we've been, and where we're going.
On so many levels 2020 wasn't what we thought it would be. Like everyone else, we had a lot of cool things in the works that we opted to shelve rather than introduce a watered-down experience. This is a passion project for those involved and, while we have some pretty grand plans for the whole thing, we felt that your time and attention would be better served elsewhere. So we released just a handful of things, tried to keep runners connected, and waited. And here we are with a brighter outlook as 2021 begins. 
Our one and only official group run last year had an amazing turnout essentially the week before everything started shutting down. And while we've received numerous inquiries about a timeline to return, the level of comfort just hasn't been there. Outdoor transmission seems to be low, sure, but to us the risk was never and will never be worth it. So if you're comfortable running with others, great. And if you aren't, that's fine too. But we won't be reintroducing our group runs until later in the year. And trust me, you'll hear about it when we do.
Building off of our group runs, we hope to launch two other initiatives this year. The first is our race team. Yes, that blank page on our website will finally have some details. This is entirely dependent on a return to in-person racing, so expect more on this in the fall. Second, we plan to start providing support to local elite runners in the form of sponsorships. Helping Indiana running realize its full potential has long been a dream of ours, and we hope our support helps the running community take another step toward that goal.
Before the group runs, the track meets, and everything else, MTC was envisioned as a unifying brand for Indiana runners. Something anyone from anywhere could throw on to feel like they are part of something larger. Clothing has a powerful effect in this regard, and as a result it will always remain a central focus here. I grew up on skateboarding and streetwear brands and that background, along with classic running apparel design, has clearly influenced most of our designs to this point. The clean aesthetic we've tried to cultivate will always be a staple, but we're going to take a chance on some new things this year that we hope you'll enjoy.
Content is going to take center stage this year. We've brought on long-time friend of the club Luke Tormoehlen for more regular blog posts that we think you'll find insightful and inspiring. We're also going to spend time highlighting local runners, organizations, and businesses making a difference in our community. And we want your input on this. So if you'd like to nominate someone for a spotlight, drop us a line at info@monontrackclub.com. 
And finally, we are tentatively planning a return to some of our events this year. Coming this spring we have an FKT (Fastest Known Time) challenge that will introduce a fun new element to running in Indy, and have some cool prizes too. Depending on how far along vaccinations are, we hope to again host our Summer On The Track series with Athletic Annex. And along with that, we have some XC-style events planned for the fall.
Thanks for for joining us on our journey. We're really excited about this year, and hope to see you out there.
-Words and photograph by Garrett Lawton
---