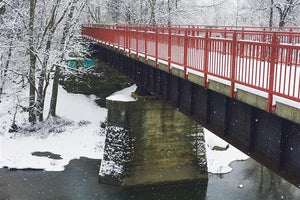 Top Five Winter Running Tips
Winter miles bring spring smiles, or something like that. Look, we know it sucks. The cold, the dark, all of it. But it doesn't have to be that bad, and we want you to get the most out of your winter running. Follow these tips to thrive this winter and you'll be fit and ready to go when the snow finally melts for the last time.
Layer Up and Light Up
The general rule of thumb for running attire in the winter is to dress like it's ten degrees warmer than it actually is. This obviously varies a fair bit from person to person, but should help as a good starting point for when you're staring at the closet wondering if you should grab that base layer or not. And speaking of layers, when in doubt layer up. If you get a little warm, you can always toss that hat or outer shirt and grab it later. Better that than underdress and suffer through needlessly chilly miles.
And don't forget the lights and reflective gear. What's right for you will depend on where you run and how visible you need to be for cars, cyclists, and other runners. A simple headlight and reflective armband will go a long way in keeping you safe during those dark, winter miles. Snag a light up vest for extra visibility in rural areas.
Pay Attention to Your Surroundings
Snow, slush, and ice can make winter running a risky proposition. Toss on a little traction to keep yourself upright. Most regular running shoes can handle snow well enough, but trail shoes can provide extra traction with lugs and various kinds of sticky rubber. Many shoe companies also make water-proof or resistant shoes to keep your feet dry through water and slush. 
When it comes to running on icy surfaces, Yaktrax have a variety of reliable over-the-shoe traction products. But be careful with using these in deep snow, as it can pack in between the Yaktrax and the sole of your shoe, shifting the Yaktrax around. And when it gets really bad out, some people swear by drilling screws through the bottoms of their shoes, although we can't vouch for this ourselves.
While surfaces play a big role in winter running, be sure to pay attention to your surroundings in general. Temperatures can drop quickly once the sun goes down, a favorite route might be poorly lit, and a reliable water fountain might be off for the season. Keep things like this in mind before setting out on your next run and adjust your route accordingly.
Be Flexible
Speaking of adjustments, flexibility is key for winter running. Those planned 800 meter repeats might be sunk if the local track is covered in snow, so be sure to have a backup plan. Workouts can be moved to indoor tracks or treadmills, and shifting things a day or two won't ruin a training plan. Avoiding a season-ending injury from slipping on ice is worth waiting a day for it to melt. Successful training plans are all about overcoming adversity, and winter running conditions can be just that.
Strength in Numbers
Your alarm goes off at 5am, waking you to a dark morning and a weather app that says 25 degrees. It can be tempting hit snooze and convince yourself that you'll run after work, but if you've already made plans to meet up for a run you're much more likely to actually get out the door. It's easy to talk ourselves out of solo runs, but planning to run with someone can keep you accountable when willpower is at its lowest. So fire off a few texts and line up runs with friends or a group for the week. And don't forget to check out Monon Track Club group runs, coming early 2020.
Stay Motivated
Group runs can be a great way to hold yourself accountable during the Winter, but keep the miles adding up with extra motivators. A new goal or spring race will keep you lacing up for those cold runs. Indy Runners has a comprehensive race calendar you can use to find your next race. And a new goal might be just what you need to stay focused. Did January sink your hopes of 1000+ miles last year? Kick off the new year with some consistent mileage to make sure you're out ahead of it this year.
Winter running in the Midwest can be challenging, but with these tips and a little willpower, you'll get through to your spring goal race ready to go.
---